When we first got out new fifth wheel the 30 amp power cord came out of the sidewall through a small round utility hatch. I worried the plug would jiggle back into the storage space behind and I would not be able to reach through the small hole to retrieve it. That didn't happen but what did happen was just as bad.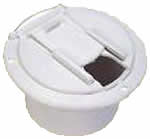 When storing the cord the day before it somehow got looped over itself so the next day when I tried to hook up again the cord would only come out about six feet. I pushed, pulled and jiggled but couldn't get the loop undone.
To get the cord untangled I had to remove the screws and pull the plastic port away from the wall. The actual hole was just large enough that I could reach in and untangle the cord.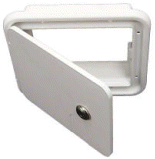 After getting the cord loose and pulling it out I looked through the hole at the space behind the wall. It was actually quite large. And the wall area was large enough that I could install a larger utility hatch in place of that little round port.
Now cutting a large hole in the side of your RV may be just a little intimidating… if you screw it up it would be pretty ugly… but if you are handy with tools and measure carefully I'm confident you can do it.
See: Upgrading My RV Power Cable Hatch on RVbasics.com for more on how I did mine along with Before and After photos.
——————–
RV Repair and Maintenance Manual: Updated and Expanded
The most popular resource for RVers who prefer to work on their own RVs. Featuring step-by-step procedures for maintaining and repairing RVs, in easy-to-understand layman's terms and simple-to-follow instructions. Includes topics on electrical systems, LP-gas systems, water systems, sanitation systems, AC generators, heating systems, air-conditioning systems, refrigerators, trailer brakes, trailer suspensions, dinghy towing, hitches, drivetrain systems, solar power systems, ovens and ranges, microwaves and ice makers, exterior and interior care, and accessories.
—————————-
---